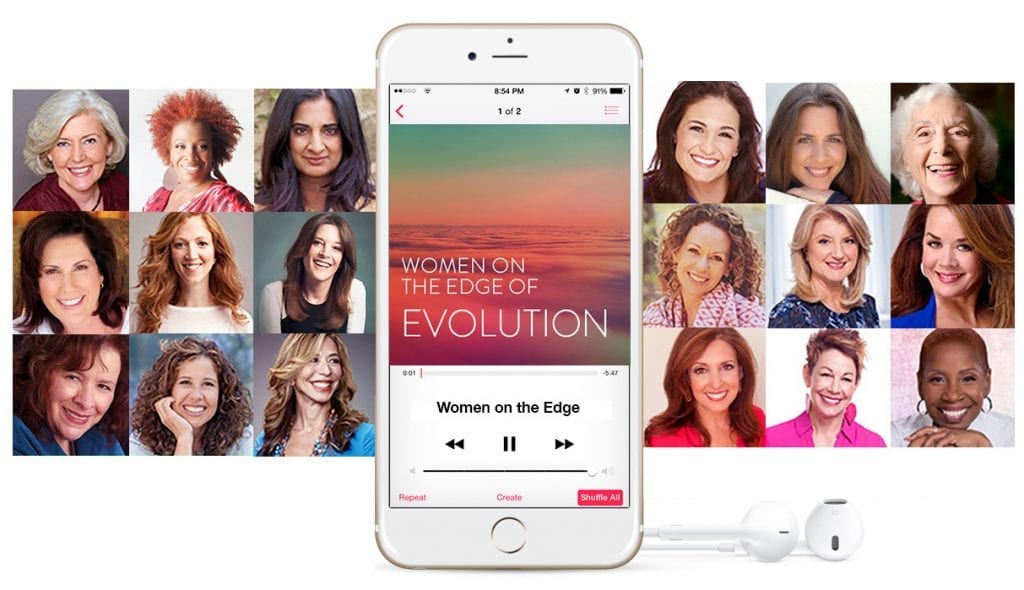 Get Instant and Unlimited Access To Powerful Support Tools & Mentoring to Awaken Your Power to Create the Future of Your Life.
If you're an awakening woman wanting to self-actualize in your relationships, creativity, spirituality and more—whether you're an entrepreneur (or aspiring to be one!) or a coach, leader, facilitator, or change agent—we've created this offer *especially* to support you to make this your year of greatness.
Just ONE idea or blast of inspiration from the world's leading women can support you to have 10-times the impact, influence, growth and transformation.
One thing I know for sure is this: the opportunity for you to have greater success and impact, express your creativity, experience deep intimacy, and meaningfully contribute—is WAY bigger than you can imagine.
By listening to the 23 seminars in the Women on the Edge of Evolution Series, you're going to discover the unprecedented opportunities available to women right now to experience a greater level of success, in each and every area of your life.
You'll get the crucial support you need to break through limiting beliefs, overcome your fears, and open yourself up to those new opportunities.
You'll receive leading-edge information combined with inspiration on a variety of topics… everything from how to make a living in ways that align with your values, to overcoming the self-doubt and insecurity that can stop you from moving forward, to creating thriving relationships while living a big mission…
And you'll discover what it means to be a woman on the edge of evolution, and how your full self-actualization is critical for the future of our world.
I'm Dr. Claire Zammit, founder and leader of the Feminine Power programs, which have helped more than 500,000 women awaken the power they hold within them.
And I'm honored to have the chance to help you awaken yours!
To your highest destiny,
Claire Zammit, Ph. D.
Founder, Feminine Power
Creating a Life of Purpose, Love,
Impact, and Prosperity Will Be the Most
Significant Thing That Ever Happens to You
The journey to get from where you are to where you want to be can be uncertain and challenging, and can feel incredibly isolating.
That's why I've sought out the women thought-leaders, change-agents and artists who really do have the answers. With each audio you'll be mentored and guided by many of my personal heroes, friends and colleagues—women who have blazed a trail for all of us by stepping into their power, developing their gifts and creating authentic success on their own terms.
Now they want to show you how you can do the same!
These women have been exactly where you are, and they're waiting to link arms with you and sharing the tools and keys they know work to support you to step out of the shadows and into your brilliance, so you can experience the authentic success, love, power, creativity and impact you were born for!
The Women on the Edge of Evolution Series will help you make small, yet powerful shifts in those core areas that will move you from doubting your ability to change your life to stepping fully into your dreams and radiating possibility to everyone around you.
You'll emerge from Women on the Edge of Evolution with everything you need to manifest your greatest potentials, including being able to:
Say "YES" to playing your biggest game
Be the creator of your own life, not a victim of your circumstances
Commit to be loving and kind to yourself through tough times, knowing the best is yet to come
Have the power to create thriving relationships
Make choices and take action knowing that there is a deeper purpose for your life and the universe is organizing around your success
And you can experience the entire amazing series—23 seminars—from the comfort of your very own home.
Get the Most Out of This Extraordinary Series with
Instant and Unlimited Access to Every Conference Audio
Get started right now with instant and unlimited access to all of the seminars from the Women on the Edge of Evolution Series.
There's never been a better time to step into the power and possibility ahead for your life.
You deserve to have a life filled with meaning, purpose, and prosperity and I promise… it's waiting for you.
Keep Reading for a Full Program Overview and Details of What You'll Discover in Every Session…
Get the Most Out of This Extraordinary Series with Instant and
Unlimited Access to the Seminars and 5 Additional Bonuses!
You can now own permanent access to all of the seminars and accompanying you see above from Women on the Edge of Evolution.
By enjoying permanent access to the audio recordings, you will have the opportunity to plug into this vital information anytime and any place. The benefit of listening at your own pace, and repeatedly referring to those experts and topics that most resonate with you, will reinforce important changes in your behavior and your mindset that will lead to lasting, positive changes in your life.
There's never been a better time to gift yourself with these important resources to support your deeper transformation, higher impact, and greater success!

Yes, I'd like to order Women On The Edge Of Evolution Now!
For help registering or if you have any questions,
write to us at support@femininepower.com
About Your Host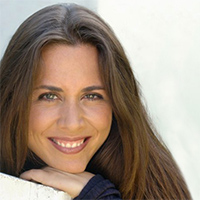 Dr. Claire Zammit Ph.D., is an expert transformational teacher, leader, mentor and successful conscious entrepreneur. Her mission is to empower women to fully express their gifts and talents by sharing the Feminine Power teachings that she created and that she credits as the source of her own fulfillment, success and impact.
She is the founder of the Feminine Power Global Community, which offers online trainings, advanced courses and coaching, facilitation and leadership certifications that serve hundreds of thousands of women from more than 100 countries across Asia, Europe, South America and the US. The women in this community are coaches, mothers, artists, leaders, teachers, authors, engineers, therapists, doctors, lawyers, judges, performers, scientists, entrepreneurs, producers and more.
Claire is also the co-founder and president of Evolving Wisdom, which was recognized by Inc. Magazine as #83 on the list of Top 500 fastest-growing companies in America. Faculty and guest faculty include renowned transformational teachers Neale Donald Walsch, Dr. Jean Houston, Deepak Chopra, Dr. John Gray, Eckhart Tolle, and Marianne Williamson.
Since 2009, Claire's work with Feminine Power and Evolving Wisdom has reached more than 1 million people. In addition to her teaching work in the Feminine Power courses, Claire has shared the stage with such luminaries as Elizabeth Gilbert, Brené Brown, Eve Ensler, Alanis Morissette, Marianne Williamson, Marci Shimoff, Neale Donald Walsch, Gabrielle Bernstein and Lisa Nichols.
In 2014, Claire received the Just Like My Child Foundation's Women's Leadership Award in recognition of her contributions to funding The Girl Power Project that's now set to impact over 1 million girls with leadership and self-esteem trainings in the developing world.
Claire is an active member of Jack Canfield's prestigious Transformational Leadership Council and was the recipient of its achievement award, and she is also a participant in Deepak Chopra's Evolutionary Leaders Forum.
In 2017 Claire was awarded her Ph.D. in Transformative Learning & Change from the California Institute of Integral Studies after completing her decade long dissertation research project on women, power & self-actualization.