"For single, conscious women seeking to manifest a conscious man/partner for a lifetime of love and happiness, my friends Arielle Ford and Claire Zammit are the "go-to" experts in the field."

Dr. John Gray, bestselling author of all time of the Men Are from Mars Women Are from Venus Series and Conscious Men
Here's Everything You'll Get
Training starts Thursday, September 14th

12-Week Interactive Online Training Feminine Power founder Claire Zammit, Arielle Ford, The World's Leading Love Experts team & Our team of Certified Feminine Power Love Coaches
12 60-Minute Exclusive "Love Codes System" Seminars Led by Claire and/Or Arielle – Released Thursdays at 5:30pm Pacific Time (Value $5,000)
Based on the leading Feminine Power & Love Manifesting approaches that Claire and Arielle have pioneered for decades, along with leading edge insights and tools from over 200 the world's leading love experts, you'll be guided to activate the 6 Love Codes where you'll access to the power to:


Reset Your Love Compass
Rewrite Your Love Story
Become a Love Magnet
Master the 3 Power Dating Superskills
Radiate Your Authentic Feminine Power
Master the Skills of Intimacy & Life-Long Love

6 Live Group Mentoring Calls with Claire &/or Arielle – Held on Mondays at 5:30pm Pacific Time (Valued at $3,000)
You'll have the opportunity to be personally coached and mentored by Claire and Arielle during these high value calls in each area of the 6 Love Codes
6 x 2-Hour Exclusive Love Master Classes with The World's Leading Relationship Experts (Valued at $3,000) – Dr. John Gray, Alison Armstrong, Dr. Kathlyn Hendricks, Harville Hendrix & Helen LaKelly Hunt, Bela Gandhi, Ken Page & Evan Marc Katz – Released Mondays at 5:30pm Pacific Time  
Imagine being part of an intimate group being mentored by the world's leading relationship experts and love masters! During these sessions Claire and Arielle will bring in many of their close friends and colleagues to give you access to the leading tools and practices in the areas of understanding conscious men, transforming your attachment style, making conscious connections, navigating the early stages of dating, and more that will support you to integrate and apply the core training modules even more deeply.
12 Manifesting Love "Power Circles" (Valued at $3,000) with senior certified Feminine Power Love Coaches
Our Power Circles are weekly, LIVE, small breakout group coaching phone meetings facilitated by our most senior Feminine Power Love Coaches.You'll have the opportunity to to engage in live conversation with other women in the Love Codes course and to receive laser coaching from the Feminine Power Love Coaches in these meetings, to help you apply all that you're discovering! (This schedule will be released near the start of the training, with times to accommodate multiple schedules)
PDF Transcripts + Integration Practices & Recordings (Valued at $500)
All sessions will be recorded and you will have PDF transcripts of all training modules along with handouts and learning guides for the sessions. These materials are an invaluable support in integrating your discoveries in the trainings as well as a resource if you are a coach or mentor to others in this area.
Exclusive Private Learning Portal + Community (Valued at $500)
You will connect with a brilliant group of conscious women who will become your close friends and supporters cheering you on all the way to the arms of your soulmate …. and cry with joy as you walk down the aisle at your wedding!
Plus, You'll Also Receive these Special Bonuses:
Lifetime Access* to the "Love Manifesting Vault" (Valued at $10,000)
You're also going to have access to the the archive of over 200 seminars featuring the world's leading experts on the most important topics related to both attracting love and sustaining love.
Perhaps you're wondering: Should I stay or should I leave? How do I recover from a betrayal? How do I ask for what I need? Is he "The One"? How do I flirt? How do I keep the passion alive? How do I feel confident when I'm insecure about my weight/age/history? When should I introduce my partner to my kids? If I want children and the guy I'm in love with doesn't, should I leave? And hundreds of other questions.
With this exclusive collection you will have access to specialized seminars on a wide array of topics related to attracting and sustaining an extraordinary, loving, conscious, committed relationship.
*Lifetime Access means you'll be able to access the streaming to these seminars for as long as the program is available online.
Our Love Masters are among today's leading luminaries and relationship experts, and include…
Dr. John Gray, Dr. Helen Fisher, Marianne Williamson, Alison Armstrong, Harville Hendricks, Neale Donald Walsch, Marci Shimoff, Jack Canfield, Bruce Lipton, Esther Perel, Dr. Jean Houston, Barbara Marx Hubbard, Deepak Chopra, Craig Hamilton, Dr. Diana Kirschner, Gabrielle Bernstein, SARK, Arielle Ford, Claire Zammit, Carol Look, Christy Whitman, Jennifer McLean, Rick Hanson, Lisa Nichols, Evan Marc Katz, Ocean Robbins, Mary Morrissey, don Miguel Ruiz, Mat Boggs, David Bach, Nick Ortner, Robert Holden, Lisa Garr, Dr. Jen Mann, Dr. Laura Berman, Panache Desai, Dawson Church, Jerry Jampolsky and Diane Cirincione, Lara and Johnny Fernandez, Lauren Frances, Kute Blackson, Mama Gena, Mastin Kipp, and so many more!
Weekly Feelingizations & Power Statements (Valued at $500)

Each week, you'll receive new signature "Feelingizations" from Arielle and Claire, plus wonderfully rich meditations to help you bring your conscious and unconscious into alignment to manifest love, as well as potent power statements to clarify your intentions at every step of the way.
Guided "Love Manifesting" Meditations (Valued at $197)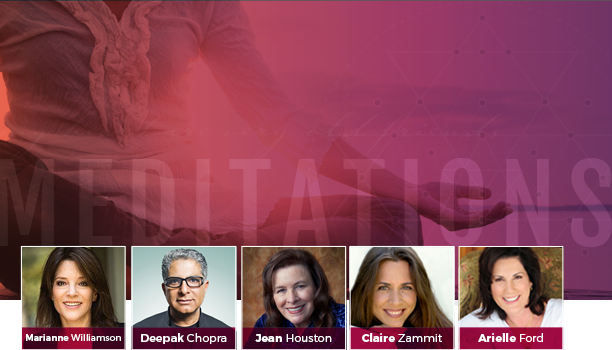 These Guided "Love Manifesting" Meditations come from the Attract Your Soulmate Series and feature the world-renowned spiritual teachers Marianne Williamson, Deepak Chopra and Dr. Jean Houston, along with us (Claire Zammit and Arielle Ford).
Inspiring Soulmate Love Stories (Valued at $147)

These inspiring love stories from Soulmate Couples will open up possibility for you and help to anchor you in the frequency of love and "pattern" your unconscious for long term happy, healthy love.
Prepare Your Heart & Home for Love (Valued at $297)
LIVE VIDEO WORKSHOP Prior to Course Start with Arielle & Claire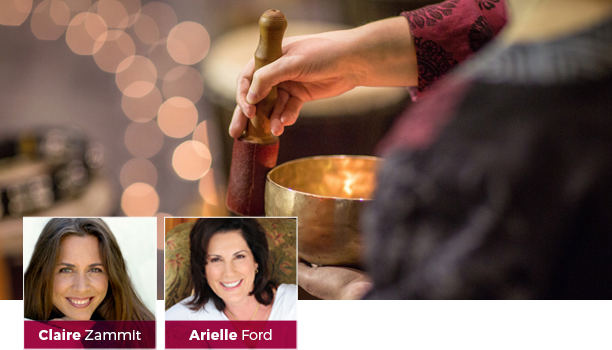 Most of us have formed blocks to love without even realizing it—whether it's inside ourselves, with attachments to exes or old hurts that haven't been healed, or with our physical space being filled with reminders of the old, rather than a space that supports our vision for love. In this live interactive workshop we're going to come together as a global tribe to create a Love "Power Circle" to heal our hearts, with a powerful Release ritual and ceremony. Then we'll begin the process of preparing our homes for love, as there are some simple fun things you can do to get the energy flowing right away that will open up the space for love! There's no better way to prepare for the Love Codes Course!

TOTAL Value: $26,435
Regular Price: $2,497
ONE TIME ONLY: 80% OFF THE REGULAR TUITION…
Most Flexible
Best Value

(Save an Additional 15%)
***Take Action Now – This is the only time the program will be offered for 80% Off for $547 or 3 Payments of $217***